NEWS
NOTICE TO ALL OUR CUSTOMERS AND SUPPLIERS
CHANGES TO OUR TRADING HOURS
Please note that with effect from Monday 19th June 2017 we shall be reducing our hours of trading and working a three-day week. Our office will be open as normal on Mondays, Tuesdays and Wednesdays, but will be closed for business on Thursdays and Fridays. This means that we will be unable to accept any deliveries or arrange for any collections to be made on a Thursday or a Friday. Furthermore, any routine telephone enquiries received on a Thursday or a Friday will be dealt with on the following Monday. However, if your enquiry is urgent you are welcome to email us as we intend to respond to your emails as normal.
We realise these changes will cause some inconvenience but they are being forced upon us. My co-director, who is also my wife Franca, enjoys reminding me that I am rapidly approaching retirement age and that our working hours will have to be reduced sooner or later. Moreover, we both now have further commitments which include spending more of our time with our ailing relatives, and so I am sure you will understand the situation we are in and why these changes are necessary.
Thank you for your continued support,
Michael
Heavy-Duty Twin-Cylinder Air Compressor Unit
Part Number EHC004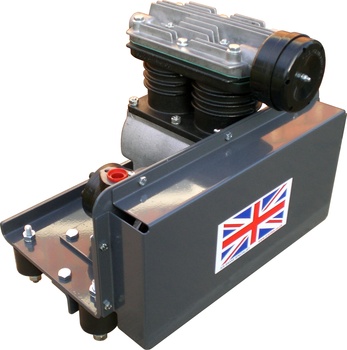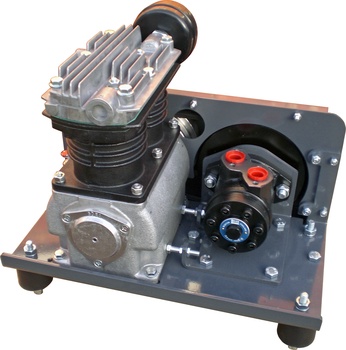 Consists of a twin-cylinder air compressor, belt-driven by a hydraulic motor and mounted on a 6mm steel platform with anti-vibration rubber mountings under each corner. Suitable for on-site use in agriculture, forestry, railway maintenance, industry, or wherever the unit can be powered by a hydraulic pump.
Overall Dimensions (approximate):
Width 450mm (18"), Depth 330mm (13"), Height 360mm (14")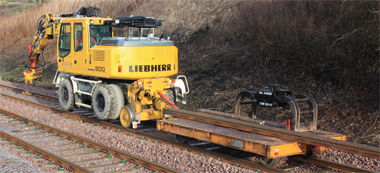 The EHC004 compressor unit can be used to power the equipment used on rail maintenance vehicles eg. Poclain, Liebherr.
Other uses include fence post air drivers used in forestry and farming, air nail guns for fencing, various power tools, tyre inflating equipment, air-driven pressure washers etc.
Performance:
When tested, the compressor filled a 50-litre air reservoir from zero to a pressure of 8-bar (116 psi) in 70 seconds at a hydraulic flow of 40 litres/min. A further test at 35 litres/min filled the reservoir to the same pressure in 105 seconds. Both tests were carried out when the oil was at normal working temperature.
The air compressor speed of rotation is exactly twice that of the hydraulic motor due to the belt pulley sizes chosen for this unit. For example, a motor speed of 800 rpm would result in a compressor crankshaft speed of 1600 rpm.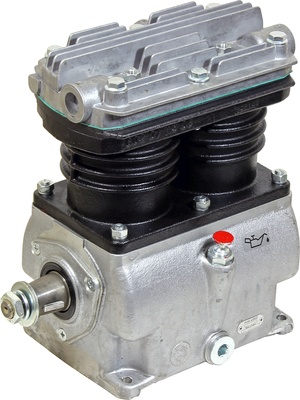 Repair Service for Clayton Dewandre Vacuum Servos
fitted to 1950's Motor Cars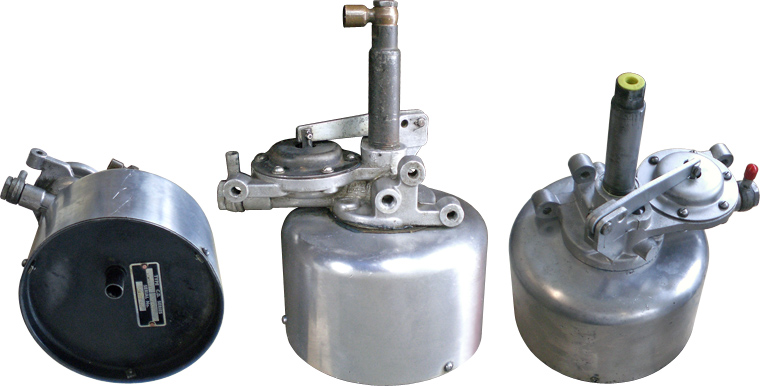 We can now offer a repair service for the Clayton Dewandre vacuum servos fitted to certain motor cars built in the 1950's including Armstrong-Siddeley, Jaguar, Land-Rover, Riley and Rover. The servo part numbers are GA 15002 and GA 15022. The cost of repair will inevitably depend upon the condition of the servo; many of these units are now suffering from corrosion and will also need attention to leather seals and other parts.
If you have one of these servos that needs repairing please contact us and we will be able to give you more information.
BERTOCCO NEWSLETTERS
Recently issued newsletters showing new or revised products from
Bertocco Air Truck Technology srl., Milan
From left to right:
1. Type 12 Locking Cylinders for Self-Steering Axles
2. Palm Couplings for Trucks, Tractors and Trailers
3. Solenoid Valves, 12-volt and 24-volt, Normally Open or Normally Closed
4. Air-over-Hydraulic Actuators (Air Servo and Hydraulic Brake Master Cylinder)
Click on each image to view documents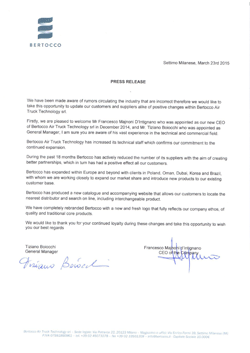 BERTOCCO PRESS RELEASE

News from our main supplier of air brake and air suspension parts, Bertocco Air Truck Technology srl., Milan.

Included in the bulletin is the news that the company has appointed two new senior members of staff, along with an increased number of technical staff.
Bertocco is also expanding its business within Europe, the Middle East, East Asia and South America.
The company has also recently introduced a new logo, intended to reflect the company ethos of quality and traditional core products.

Click on the image to the right to view document.
LEGISLATIVE CHANGES TO VEHICLE WEIGHTS AND SPEEDS

1. AGRICULTURAL VEHICLES

• Weights
As of 9th March 2015, the maximum vehicle combination weight will be increased from 24.39 tonnes (24 tons) to 31 tonnes. The existing trailer limit of 18.29 tonnes (18 tons) remains unchanged.

• Speeds
Also as of 9th March 2015, the maximum speed of vehicles currently limited to 20 mph (assumed to be those with limited braking efficiency and/or a lack of an effective suspension) will be raised to 40 kph, approximately 25 mph.

The government is also looking into future increases in weight and speed, and a roadworthiness test (similar to an MOT) for all agricultural vehicles.

2. HGVs

As of 5th April 2015, all vehicles over 7.5 tons GVW,

a) when operating on a single carriageway outside of built-up areas, will have their speed limit raised from the current limit of 40 mph to 50 mph.

b) when operating on a 'non-motorway' dual carriageway, will have their speed limit raised from the current limit of 50 mph to 60 mph.

Demountable Air Compressor Unit for Agricultural Tractors
Enables a tractor with hydraulic brakes to tow a trailer with air brakes.
Click on images to enlarge
A self-contained air compressor unit for mounting on the three-point linkage of an agricultural tractor and designed to enable a tractor with hydraulic brakes to tow a trailer with air brakes. Everything necessary to provide the driver with full control of the trailer's air brakes is built into the unit, which is connected to the tractor by three hydraulic hoses and an electrical cable.
The unit incorporates two self-sealing trailer air brake couplings, plus a quick-release airline coupling and a pressure gauge with low-pressure warning light.
Air for the trailer brakes is generated by the single-cylinder air compressor which is driven by an hydraulic motor. The motor is powered by the tractor's hydraulic pump and is connected to the tractor by two of the hoses.
Air-pressure regulation is by an unloader valve or an optional air dryer/unloader, and a large air reservoir provides ample storage capacity for the trailer's braking
system. A safety valve is also fitted.
The third hose is connected to the tractor's hydraulic trailer brake coupling, so that whenever the tractor's brakes are applied a valve on the unit actuates the trailer's air brakes. The system has been designed to provide balanced braking on the trailer to match the effort being applied to the tractor brakes.
A specially-designed detachable wiring loom connects the unit to the tractor. One end of the loom plugs into a 3-pin electrical socket fitted to the unit, and the other end is fed into the tractor's cab and plugged into the 12-volt auxiliary socket. The loom incorporates an emergency trailer brake button which can be mounted in a convenient location for the driver to operate when necessary.
We build these units to order and would be happy to discuss your requirements. Please contact our technical department for more information.
Part Number: EDHC 001
Rear Suspension Air Bags (Air Shocks) for Honda Gold Wing Trikes
Manufactured by Goodyear, these suspension air bags will replace the units fitted to certain Honda Gold Wing trikes.

Technical Details:
Maximum Extended Height: 8.0"
Compressed Height: 3.6"
(Measured from surface of upper plate to bottom of unit)
Useable Stroke: 4.4"
Maximum Diameter of Air Bag at 100 psi: 3.25"
Upper Plate Diameter: 2.2"
Bottom Diameter: 1.54"
Top Mounting Combo Stud: 3/4" x 16 UNF
Pipe Fitting Thread in top of Stud: 1/8" x 27 NPTF
Bottom Mounting Thread: 1/2" x 13 UNC

Competitively-priced. Please contact us for more details.
Cap Spanner for Girling Master Cylinders (Metal Caps)
For removing the metal caps on 1 3/4" & 2 1/2" Girling master cylinders without damage.
Designed for LOTUS ELAN and other classic cars with Girling master cylinders.

Part Number EBRK 0554

(Colour of Spanner - Orange)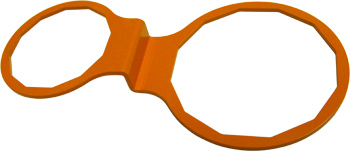 Cap Spanner for Girling Master Cylinders (Plastic Caps)
For removing the plastic caps on 1 3/4" & 2 1/2" Girling master cylinders without damage.
Designed for LOTUS ELAN and other classic cars with Girling master cylinders.

Part Number EBRK 0561

(Colour of Spanner - Yellow)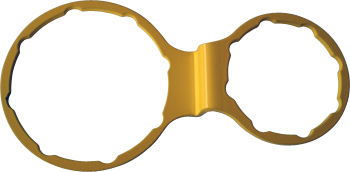 Genuine Bosch H4 Halogen Motorcycle Headlamp Units
to fit Ducati Monster models
Special Offer
Brand new 12 volt headlamp units to fit all Ducati Monster models with traditional circular headlamp assembly. Now discontinued by Bosch, these units are built to UK specification (left-hand dipped beam) with a metal shell, and are supplied complete with main bulb, pilot bulb, cable and plug, ready to fit.
Ducati Part Number - 52020012B
Bosch Part Number - 1-305-504-945
Large stock available - Please contact us for more details
Erentek Ltd. (Company Registration No. 4362200) Registered in UK
Malt Kiln Lane, Waddington, Lincoln, LN5 9RT, England
Telephone: +44(0)1522 720065, Fax: +44(0)1522 729155