AIR BRAKING
AGRICULTURAL
AIR SUSPENSION

Based in one of the most productive farming counties in the UK we enjoy a high proportion of agricultural business, and as farm machinery has evolved over the years to the stage where specialist knowledge is often required much of our work involves modifications to the air braking and air suspension systems now in use.

Updating an existing braking system to comply with the latest safety requirements or installing an air suspension system is typical of what we do. Our conversion kits each cater for a specific vehicle, and include all the necessary parts, a layout drawing plus help and advice when you need it.

This type of business is our speciality, but we also carry out work on hydraulic braking systems, as well as general modifications to agricultural equipment in which air or hydraulics are used.

Our intimate knowledge of braking systems and air suspension systems is the result of many years involvement, and our agricultural customers benefit from this. Personal service is guaranteed, and no job is too small.

Our service to agriculture also includes supplying parts. Many of these have been designed and produced by ourselves, and we have a range of literature available covering most of our specialist products. We have listed details of these products and services further down the page, and will be adding more on a regular basis.

For printed copies of any of our literature, or for further details or information,
just give us a call on 01522 720065, or e-mail us at
:
[email protected]
Hydraulically-Driven Air Compressor Unit for Tractors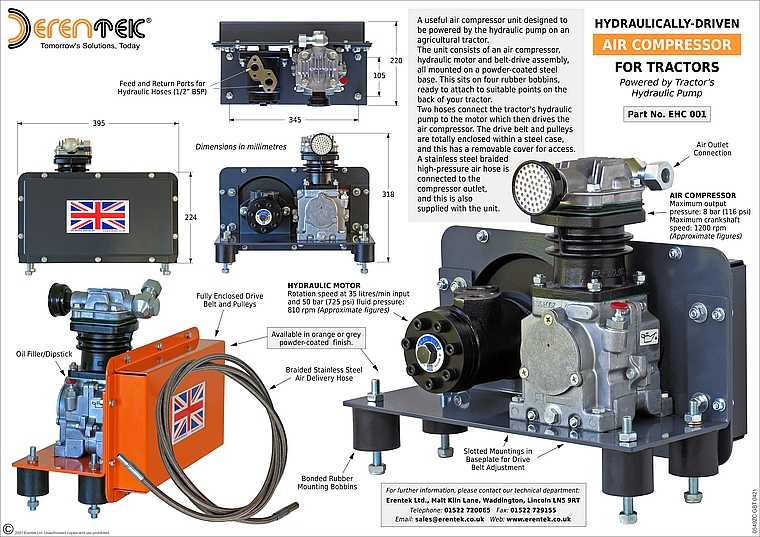 Click on image to enlarge.
Compact Self-Lubricating Air Compressor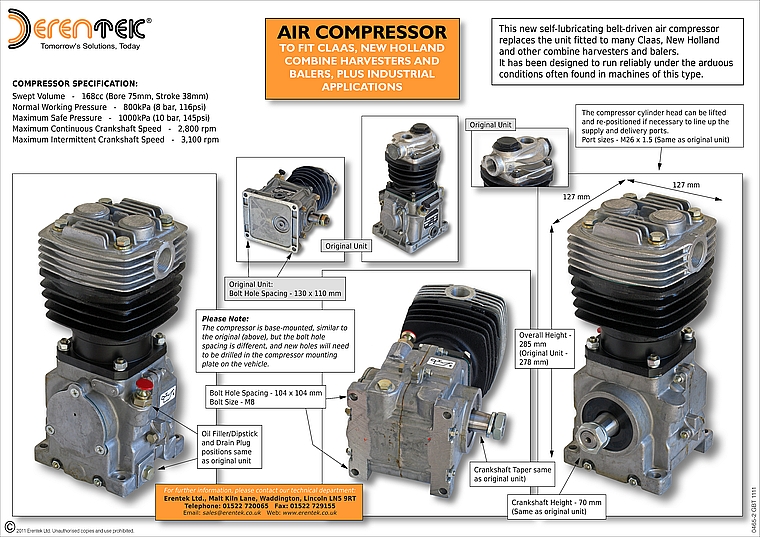 Click on image to enlarge.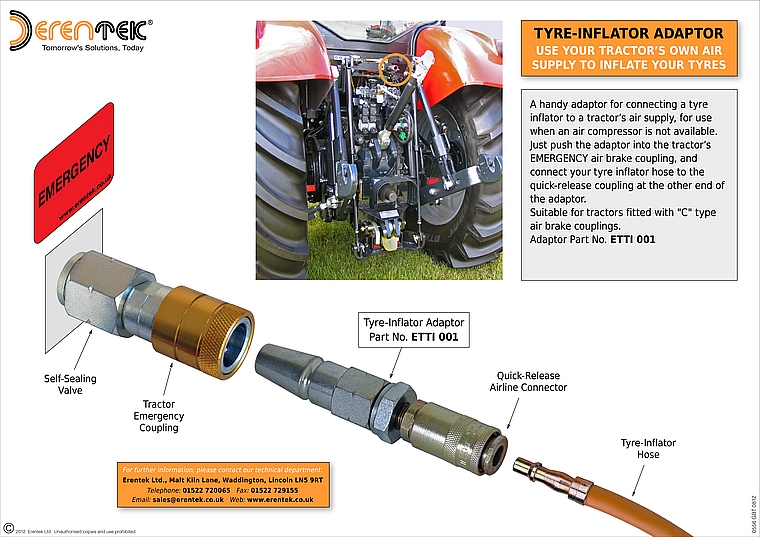 Click on image to enlarge.
TRACTOR AIR BRAKE SERVICE LINE ISSUES
Possible solution to problem of trailer wheel-locking.
We have discovered a problem which can cause the air brakes on agricultural trailers to lock up suddenly or to work in a non-progressive fashion. The cause of this problem appears to be faulty air regulation in the service air brake line on some tractors.
The air pressure in a tractor's service line determines the force applied to the trailer's air brakes and should rise progressively as the tractor's own braking pressure is increased. This results in smooth, balanced braking between tractor and trailer. However, if the air pressure in the tractor's service line is "non-progressive" for any reason, it can be difficult for the driver to control the air brakes on the trailer without locking the wheels.
There is a solution, however, and this involves fitting a special pressure-reducing valve into the tractor's service line, as shown in the diagram. This valve, known as a "ratio" valve, reduces the pressure being fed to the trailer brakes relative to the pressure supplied by the tractor, and can help to prevent trailer wheel-locking.
Unlike other pressure-reducing valves however, the ratio between input pressure and output pressure is not fixed. This valve is designed to re-adjust the ratio at one or two specific points on the pressure scale in order to achieve the most braking efficiency, and there are several variations of the valve, each with its own set of ratios.
So, if you are experiencing this trailer braking problem, fitting one of these valves to your tractor could provide a solution, and we will be happy to give you help and advice.
Our telephone number is: 01522 720065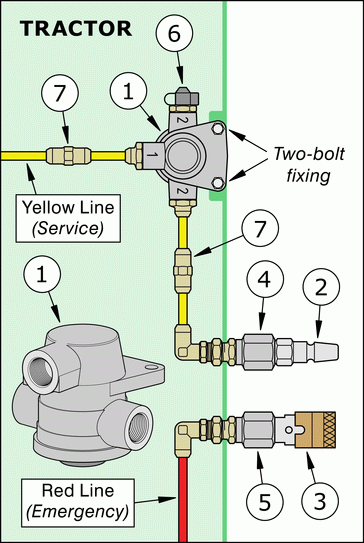 KEY:
1. Ratio Valve
2. Trailer Air Brake Coupling, Service
3. Trailer Air Brake Coupling, Emergency
4. Self-Sealing Valve
5. Self-Sealing Valve
6. Test Point
7. Pipe Connector


Kit Part Number: ED 192
Air/Hydraulic Brake Actuators and
Mounting Brackets for Agricultural Trailers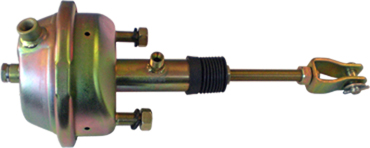 Brake Actuator Part No. EBC 20/25 (Type 20 brake chamber, with 25mm dia. hydraulic ram).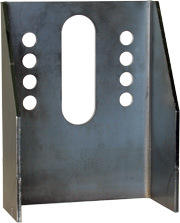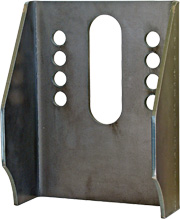 Bracket Part No. EBRK 20/25
(To suit type 20, 24, 30 and 36 brake chambers with 120.7mm (4 3/4") mounting stud spacing).
Hydraulic Load-Sensing Valve - Part No. ETK 007
Persistant wheel-locking on an agricultural trailer is largely avoidable and is usually the result of poorly balanced brakes which can lock up when the trailer is empty or lightly-loaded. The braking power required to stop a trailer when fully-laden can cause its wheels to lock when it is unladen unless regulated by a load-sensing valve. Our hydraulic load-sensing valve is designed for agricultural trailers and, when correctly installed, will help to prevent the risk of wheel-locking and premature tyre wear.
Valve part number ETK 007
The valve is connected into the trailer's hydraulic brake line and is bolted to the chassis above the axle. A cable-and-spring linkage connects the valve to the axle. (If the trailer is tandem-axle, the linkage is connected to a balance beam between the two axles, and if the trailer is tri-axle, the middle axle is used.) As the trailer load increases or decreases, the axle movement causes the lever-arm to move up or down. The valve senses this movement and adjusts the hydraulic braking pressure to suit the conditions. Unnecessary wheel-locking is avoided and tyre life extended.

Click on image to enlarge.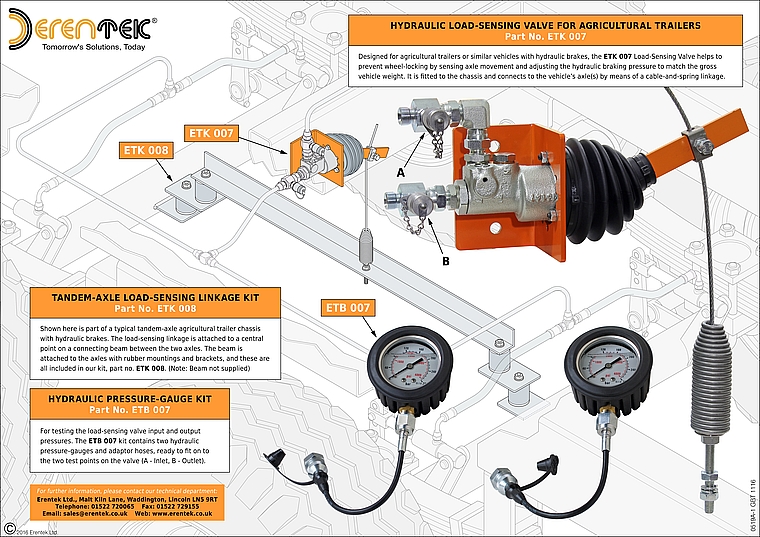 We are proud of the fact that we have researched, designed, developed and produced this hydraulic load-sensing valve. It is not a copy of someone else's product.
THIS IS THE ORIGINAL!
Emergency Braking System for Agricultural Trailers - Part No. ETK 001
Most farm trailers with hydraulic brakes rely on a single-line connection from the tractor to control the brakes on the trailer. If this connection is broken, as a result of the tractor and trailer becoming accidentally unhitched in service, the trailer itself will be left with no brakes and could run away out of control, particularly on a steep hill. To address this potentially dangerous issue, we supply a device which can be fitted to any farm trailer with hydraulic brakes and which will apply the trailer brakes automatically if a breakaway ever occurs.
Part no. ETK 001

Click on images to enlarge.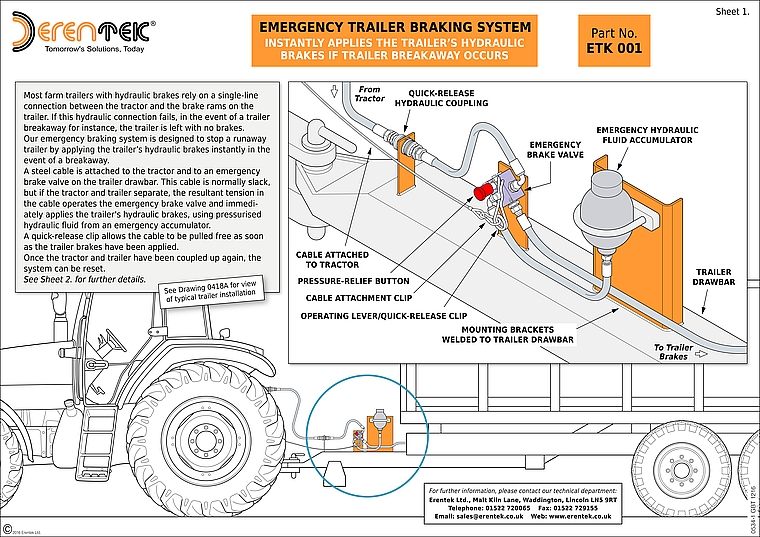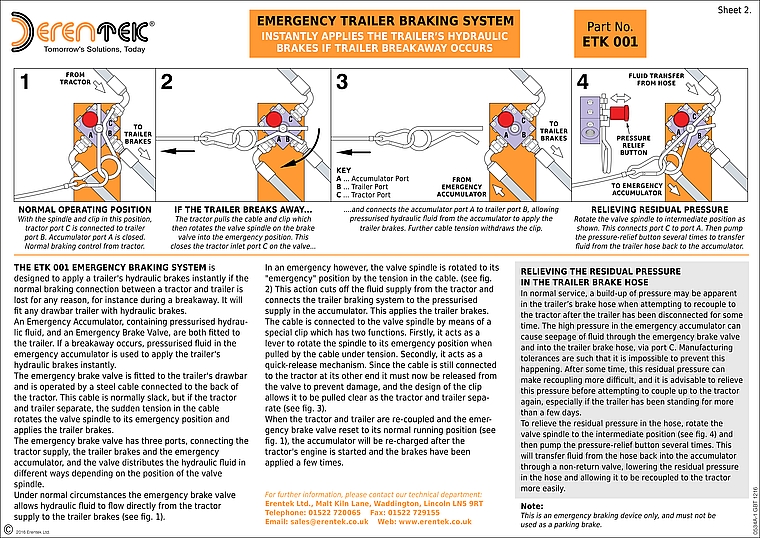 Driver's and Owner's Handbook
for Agricultural Tractors and Trailers
Air brakes are our speciality. We've been designing systems to fit agricultural vehicles for many years now. We know a lot about our subject, but we do acknowledge that the braking systems on modern farm machinery can appear complex at first sight. In addition, many agricultural vehicles are now equipped with air suspension, which can be equally
intimidating. So we have printed an illustrated handbook to explain how air brake and air suspension systems work, and how to perform routine maintenance jobs. Also included with each handbook is a set of self-adhesive labels for air-braked farm trailers.
If you need a copy of the handbook, or any advice, just give us a call.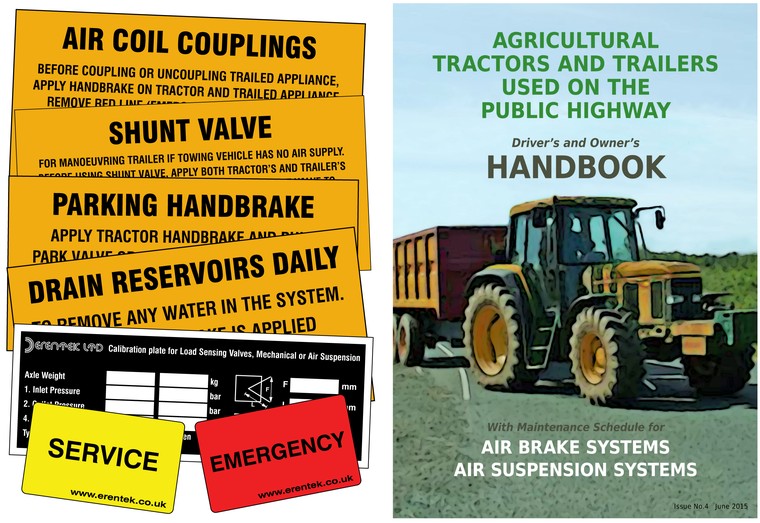 A Collection of Banners from our Stands at Agricultural Shows
Click each image to enlarge
1.
Raise/Lower Valves
Lift-Axle Control Valves
Tipping Valves
Pipe Fittings
2.
Modal ABS Unit
Cables
Pole Rings and Sensors
Valves and Brackets
3.
Air Couplings
Handgrips
Line Filters
Dummy Couplings
4.
Brake Chambers
Air/Hydraulic Actuators
Spring Brakes
Mounting Brackets
5.
Nylon Air Brake Tubing
Air Coils and Handgrips
Rubber Air Hoses
6.
Air Compressors
Air Reservoirs
Unloader Valves
Air Dryers
7.
Suspension Air Bags
Levelling Valves
Shock Absorbers
Control Valves
8.
Relay Valves
Relay-Emergency Valves
Load-Sensing Valves
Park and Shunt Valves
9.
Laser-Cut Steel Brackets
Custom-Made
Flat or Bent to Shape
Powder-Coated if req'd
Below are some of the drawings and information leaflets we have produced
for our Agricultural Air Braking, Air Suspension and Lighting products.
Please note that we provide a
COMPLETE SPARE PARTS BACK-UP
for all the kits listed here.
We can despatch parts from stock for "Next Day" delivery (UK),
so if you need anything at any time, just let us know.
Please contact us for more information about the items listed below.
0271FA
Two-Line Trailer Air Braking Control for
Agricultural Tractor or Similar Towing Vehicle
This kit contains the parts necessary to install a two-line air braking trailer-control system on a towing vehicle with hydraulic brakes (eg. tractor, Land Rover, 4x4 etc.) The vehicle can then tow a trailer with air brakes, controlled by the towing vehicle's hydraulic braking circuit. Independent control of the trailer's air brakes is also possible with this system. Please contact us for details.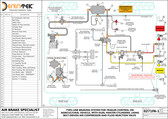 0286
Palm Coupling to "C" Coupling Converters
These two converters fit on to the Service and Emergency air brake couplings and enable a trailer fitted with "C" type couplings to be connected to a tractor fitted with palm couplings.
Part No. EPCK 001
0291
Bertocco Levelling Valves for Air Suspension
Three types of Bertocco levelling valves are shown here, together with a sketch of a typical installation.
Part No. M236 0000 or M236 0100 (Standard Levelling Valve)
Part No. M236 2000 (Ferry-Lift Levelling Valve)
Part No. M236 5100 (Height-Limited Levelling Valve)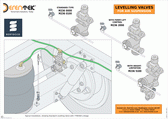 0292
Two-Line Braking System with Load-Sensing
for Tandem-Axle Farm Trailer
A popular conversion kit, this two-line air brake system supplements the existing hydraulic brakes on an agricultural trailer. By using dual-input brake chambers, the trailer brakes can be operated either by air or hydraulic pressure from the tractor. The system also includes a combined load-sensing relay-emergency valve, shunt valve, air reservoir, air coils, line filters, couplings, colour-coded pipework and all necessary fittings.
Please note - In order to obtain optimum braking performance, the load-sensing valve must be set up correctly, and not simply fitted "off-the-shelf". Therefore, before each of our kits is packed we will adjust the load-sensing valve to correspond with our preliminary brake calculations or the trailer manufacturer's specifications.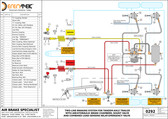 0292L
Two-Line Braking System with Load-Sensing
for Three-Axle Turntable Trailer
A two-line air braking system for a turntable trailer with one steering axle and two rear axles. Air/hydraulic brake actuators are used, operated either by air pressure or hydraulic pressure. A combined load-sensing/relay-emergency valve is at the centre of the system, the load-sensing linkage taking a balanced reading of suspension movement from a beam across the two rear axles. Also included in the kit is a shunt valve, which allows the trailer to be moved when the air coils from the tractor are disconnected.
Please contact us for details.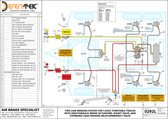 0321-1
Colour-Coded Handgrips for Trailer Air Coils
(Palm Couplings or "C" Couplings)
These handgrips fit on the ends of the two trailer air coils. Yellow for the Service line and red for the Emergency line. Connecting palm couplings, or "C" couplings, is made easier, with less risk of injury or damage. The handgrips also prevent the air coils being kinked, which could result in reduced air flow to the trailer brakes. This can happen when connecting couplings in poor visibility or in the cold. The handgrips will fit on to your existing air coils, or we can supply complete air coils with the handgrips already fitted. Suitable for 16mm or 22mm connections, palm couplings or "C" couplings.
Part No. (Kit) G555 0000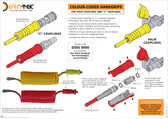 0341D
Rubber Joints and Adjustable Linkages for
Levelling Valves and Load-Sensing Valves
To connect a load-sensing valve or levelling valve to a vehicle's axle, some form of linkage is required. This consists of a metal rod with a rubber or metal joint at each end, and there are various types. This chart illustrates the most commonly-used versions.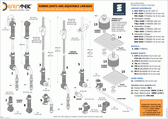 0360D
Wheel Sensor and Exciter-Ring Tester
for ABS and EBS Systems
A hand-held electronic testing device for the ABS and EBS braking systems found on modern farm vehicles. The tester plugs into each wheel sensor socket and carries out a series of checks on the sensor and exciter-ring (pole-ring), including sensor resistance, sensor/exciter-ring gap and exciter-ring condition. There is no need to remove the road wheels to use this tester. Part No. ESTB 02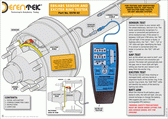 0361A-2
Brake Calculation Sheet for
Agricultural (Drawbar) Trailers
When fitting or modifying the braking system on a farm trailer, it is important that the trailer should not be under-braked or over-braked, and choosing the right components is vital. This leaflet contains a diagram, plus a questionnaire for you to fill in. Your answers will then help us with our brake calculations.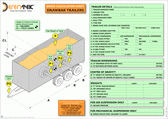 0369-1
Trailer Wiring Diagram for 12 volt Modal ABS
Colour wiring layout for a 12 volt Modal ABS system as fitted to an agricultural trailer. This uses a single modulator, with wheel sensors on one axle (2S/1M). Our diagram includes the wiring connections inside the main ABS control box and the junction box, and shows the power sockets (12N - DIN 72570), ABS warning lamp, and wheel sensors. Please contact us for more details.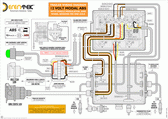 0373A
Fitting a 12 volt ISO Socket (DIN 72570)
to an Agricultural Tractor - Wiring Details
In order to tow a trailer fitted with ABS braking, an agricultural tractor needs an ISO power socket. On a 12 volt system, this is a DIN 72570 socket. Our drawing shows how to wire in the socket, with pin connections and cable colours.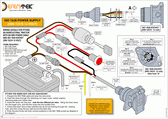 0377-2
Air/Hydraulic Brake Chamber and Mounting Bracket
(Fits Round Axles or Square Axles)

One of our most common brake conversions is to add air brakes to an existing hydraulic system on a farm trailer. To allow the trailer brakes to be operated by either hydraulic pressure or air pressure, we use dual-input (air/hydraulic) brake chambers to replace the hydraulic rams on the trailer axles. The brake chambers (which are also known as air-over-oil actuators) are then fitted to special axle-mounting brackets, which can be adapted to fit either round or square trailer axles.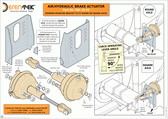 0377-3
Air/Hydraulic Brake Chamber for
Agricultural Trailers (with Dimensions)
All the relevant dimensions and thread sizes for our air/hydraulic brake chamber (also known as an air-over-oil actuator) are shown on this drawing. This brake chamber is used on farm trailers equipped with both air and hydraulic braking systems.
Please contact us for details.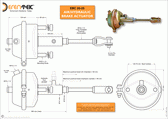 0377-4
Hydraulic Brake Ram for Agricultural Trailers
20mm Bore (with Dimensions)
With a 150mm x 52mm flat base for welding to a square-section trailer axle, this hydraulic brake ram has a 20mm bore, and includes clevis and pin, plus brake lever return spring. Fitted with a brake adjustment bolt for accurate setting-up.
Part No. EBR 002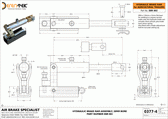 0377-5
Hydraulic Brake Ram for Agricultural Trailers
30mm Bore (with Dimensions)
With a 202mm x 54mm flat base for welding to a square-section trailer axle, this hydraulic brake ram has a 30mm bore, and includes clevis and pin, plus two brake lever return springs and attachment pin. Fitted with a brake adjustment bolt for accurate setting-up.
Part No. EBR 003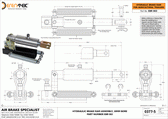 0377-6
Hydraulic Brake Ram for Agricultural Trailers
25mm Bore (with Dimensions)
With a 150mm x 52mm flat base for welding to a square-section trailer axle, this hydraulic brake ram has a 25mm bore, and includes clevis and pin, plus brake lever return spring. Fitted with a brake adjustment bolt for accurate setting-up.
Part No. EBR 004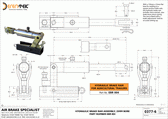 0389
Air Suspension Parts for Agricultural Machines
This drawing highlights some of the common air suspension components fitted to agricultural equipment such as crop-sprayers and farm trailers, and includes levelling valves, air bags, raise/lower valves etc.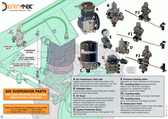 0390-3
Air Suspension System for Crop-Sprayers
This illustration depicts a typical crop-sprayer chassis with an air suspension system fitted, and shows all the components from the air compressor to the suspension air bags. We can supply a system to suit almost any crop-sprayer or to upgrade an older machine (eg. Gem Sprayers, Frazier)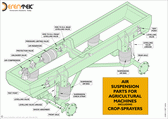 0391
Brake Operating Lever Angle for "S" Cam Brakes
An important element of "S" cam brake adjustment is setting the angle between the operating lever and the brake chamber pushrod. This diagram explains the procedure, and shows how the wrong angle can lead to ineffective brakes. Also shown on the drawing is a table of pushrod thrust figures for air and hydraulic actuators.
Please contact us for more details.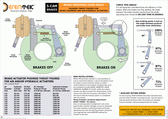 0398A
Mechanical Immobiliser for Agricultural Vehicles
Mechanical immobiliser for agricultural tractors and construction vehicles with hydraulic brakes and 12-volt electrical systems. Incorporated into the braking system, this device will help to prevent unauthorised movement of the vehicle. Also isolates the vehicle's ignition system.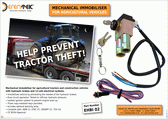 0404
Tyre Inflator Kit for Agricultural Trailers
If a trailer has air brakes or air suspension, it can be fitted with this tyre inflator kit, allowing the tyres to be checked and inflated anywhere. A new permanent air outlet is fitted to a convenient point on the trailer chassis, and the tyre inflator hose screws on when required. Part No. ETI 001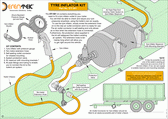 0409-1
Adjustable Pressure-Limiting Valve with Gauge
For setting the working pressure in air suspension systems and in ancillary circuits such as tyre-inflators and lift-axles where full reservoir pressure is not necessary or desirable. The gauge displays the regulated pressure which is fully-adjustable. Can be used left-to-right or right-to-left by inverting the valve body and relocating the fittings to keep the gauge on top. With mounting bracket. Part No. EPLV 001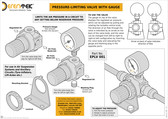 0410A
Barksdale Levelling Valve with Suspension-Dump Facility
For agricultural and commercial vehicles with air-suspension, a compact and accurate valve for maintaining ride-height regardless of load. With suspension-dump facility, to allow the vehicle to be lowered quickly by exhausting the air bags to atmosphere.
Please contact us for more details.
Part No. M236 0200 B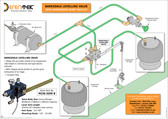 0413-3
Bracket and Rubber Bobbin Kit for Load-Sensing Linkage
on Tandem-Axle Trailer
When a load-sensing valve is fitted to a tandem-axle trailer, the lower end of the linkage rod is usually attached to the centre of a metal balance-beam connecting the two axles. Since the axles move independently of one another, this beam cannot be fixed rigidly to either axle, and some sort of flexible mounting needs to be fitted to each end of the beam to absorb this movement. Our kit contains the necessary parts, including rubber bobbins and steel brackets ready to weld to your axles. Part No. ETK 008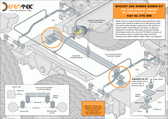 0415-7
Fitting Two Load-Sensing Valves to Farm Trailer
(For Air Brakes and Hydraulic Brakes)
Agricultural trailers are often fitted with air brakes as well as hydraulic brakes, using dual-input brake chambers, and this means that two load-sensing valves are needed, one for each system. We can supply installation kits with load-sensing valve and fittings for both the air and the hydraulic braking systems, and our illustration depicts a typical tandem-axle trailer layout with the two valves installed.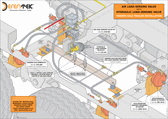 0417-2
Hydraulic Load-Sensing Valve Installation
on Agricultural Trailers
Developed for trailers and trailed equipment, this load-sensing valve automatically adjusts the hydraulic braking pressure to compensate for changes in vehicle weight. The drawing shows how the valve is fitted and adjusted. Part No. ETK 007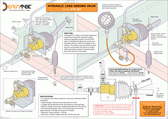 0418A-3
Emergency Braking System and Hydraulic
Load-Sensing Valve for Farm Trailers
Shown on this drawing are two safety systems for trailers with hydraulic brakes. The first system is a "fail-safe" device which automatically applies the brakes on the trailer if it is accidentally decoupled from the tractor. The second system shows our hydraulic load-sensing valve, which regulates the trailer braking pressure to match its weight.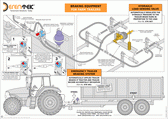 0420
Load-Sensing Relay-Emergency Valve
Lever Arm and Cable Settings
Used extensively on trailers with air brakes and mechanical suspension, this valve combines the functions of two valves, a load-sensing valve and a relay-emergency valve. The load-sensing part of the valve includes a lever arm, together with a cable linkage to the trailer axle. The lever arm and cable must be set up properly when the valve is installed, and our drawing explains the procedure.
Please Note - Load-sensing valves are included in many of our conversion kits, and before each kit is packed it is our practice to adjust the settings of the valve to correspond with our preliminary brake calculations or the trailer manufacturer's specifications.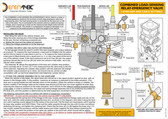 0424-1
Dust-Dispersal System for
Combine Harvesters, Tractors and Balers
A compressed air system for blowing dust out of radiators, knotting equipment and other dust-prone areas on vehicles such as combines, tractors and balers. A self-contained single-cylinder compressor generates the air, which is then stored in a reservoir and fed to a set of cleaning nozzles when required by means of a push-button control valve.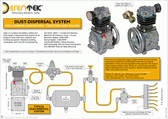 0424-2A
Typical Air Compressor Installation
with Belt-Driven Air Compressor and Air Dryer
This illustrates the relationship between an air compressor, air dryer and main air reservoir in a typical layout. The air dryer has an integral unloader valve, and also uses a separate "purge" reservoir to enable periodic de-moisturisation of the dessicant material in the air dryer cartridge.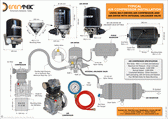 0426A
"CUNA" Air Brake Couplings for Tractors and Trailers

These couplings, manufactured by Bertocco, connect the air brake lines between a tractor and a trailer, and overcome one of the serious shortcomings of conventional "C" type or palm couplings, namely, being able to leave one coupling accidentally disconnected, resulting in the loss of trailer brakes. This cannot happen with CUNA couplings. They are either coupled correctly, or not at all. The tractor coupling is fitted with self-sealing valves, plus a weatherproof keeper plate, for when it is not being used.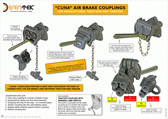 0429-3
Mounting Bracket for Brake Chambers (with Dimensions)
Our axle-mounting bracket for brake chambers, including the air/hydraulic type, is shown here with dimensions. This bracket can be fitted to square or round trailer axles.
Please contact us for more details.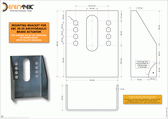 0430A
Air Dryers for Agricultural Vehicles
Air contains water vapour. This causes corrosion and shortens the life of the components inside an air brake system. To reduce this risk, an air dryer should be fitted immediately downstream of the compressor. This will remove up to 95% of the moisture content and prolong the life of the system. An air dryer can be fitted to any agricultural tractor, including Case, New Holland, Massey Ferguson, John Deere, Fendt etc., and we can supply a Bertocco unit to suit your requirements.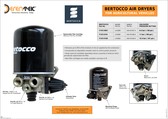 0436A
Combined Load-Sensing Relay-Emergency Valve
for Rough Terrain Vehicles
A valve combining the functions of load-sensing and relay-emergency, and widely used in agricultural air brake systems. The lever arm on this valve has an extended stroke, ie. it rotates through a greater angle, and is therefore more suited to the longer suspension movement encountered on vehicles travelling over rough ground. A rod linkage, with rubber joints, connects the valve to the axle(s). Part No. ELSV 4757
Please Note: Load-sensing valves are included in many of our conversion kits, and before packing we always adjust the settings of these valves to correspond with our preliminary brake calculations or the trailer manufacturer's specifications.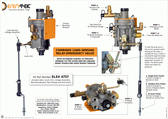 0445
Air Coils and Fittings
A typical arrangement of air coils and fittings, as found on agricultural trailers. Note the importance of the valve-lifter fitted to the trailer's service line coupling. Please contact us for details.
0452
Test Kits for Air Brake and Air Suspension Systems

Useful kits for testing air brake and air suspension systems. Three test kits are shown here, each in a strong case, and containing gauges, hoses and adaptors.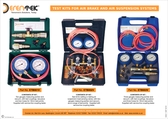 0453
Trailer-Control Valve (Fluid-Reaction Valve)
A vehicle with hydraulic brakes (eg. a tractor) must be fitted with a trailer-control valve in order to tow a trailer with air brakes. This valve is also known as a fluid-reaction valve, and as its name suggests, it reacts to the hydraulic fluid pressure in the tractor's braking system and applies the air brakes on the trailer. The valve can also be operated by Bowden cable, allowing the trailer's air brakes to be applied independently. This drawing shows a typical installation, with a cable from the tractor's handbrake mechanism.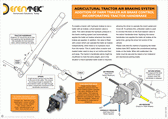 0456A-2
Trailer Air Brake Service Coupling Tester
for "C" Type Couplings

Many tractors have self-sealing valves in their air brake couplings, designed to open and close automatically. The valve in the tractor's Service coupling is opened by a valve-lifter in the trailer's Service coupling, and the operation of this valve-lifter needs to be checked periodically. This handy device simply plugs into the coupling to show how much lift is available to open the self-sealing valve.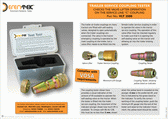 0464A
Tractor/Trailer Air Brake "C" Couplings and Fittings
This shows an exploded view of the "C" couplings, self-sealing valves and air coils, as fitted to the two air brake lines between an agricultural tractor and trailer. The correct sequence of assembly of these parts is paramount if the trailer brakes are to work properly, and this drawing should help to show where everything fits.
Please contact us for details.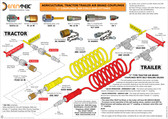 0465-2
Air Compressor for Claas and New Holland
Combine Harvesters and Balers
A tough self-lubricating, belt-driven compressor to replace the units fitted to Claas, New Holland and other combine harvesters and balers. This base-mounted compressor is also suitable for other applications.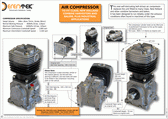 0469-2
Routine Service and Safety Reminder Labels
for Farm Trailers
In addition to the familiar "SERVICE" and "EMERGENCY" line markers, we have produced a set of four large self-adhesive labels outlining procedures which should be carried out to maintain safety and to protect the air brake system when towing an agricultural trailer. These labels can be attached to the trailer chassis in prominent locations. Please contact us for more details.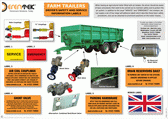 0480
Brake Chamber Rubber Gaiter Kit
Keep dirt out of your brake chambers with these rubber gaiters.
Fit over the pushrod and mounting studs to seal the opening.
Two sizes.
Part No. EBRK 91216 (Type-9, Type-12, Type-16)
Part No. EBRK 202430 (Type-20, Type-24, Type-30, Type-36)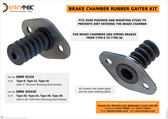 0495
12-Volt Air Compressors, Single and Twin-Cylinder
Designed for continuous operation, these 12-volt self-lubricating air compressors are available in both single-cylinder and twin-cylinder versions. Fitted with a quick-release air outlet connector to allow a tyre-inflator or workshop tools to be used.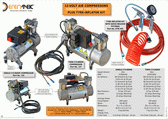 0519A
Hydraulic Load-Sensing Valve for Agricultural Trailers
For agricultural trailers or similar vehicles with hydraulic brakes, the ETK 007 Load-Sensing Valve helps to prevent wheel-locking by sensing axle movement and adjusting the hydraulic braking pressure to match the weight of the vehicle. ETB 007 Gauge Kit can be used to check the input and output pressures.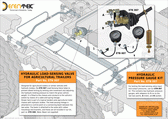 0519B
Hydraulic Pressure Gauge Kit
A useful kit for testing the input and output pressures on a hydraulic load-sensing valve, such as the ETK 007. The kit comprises two gauges and two adaptor hoses which screw on to the test points on the load-sensing valve. A carrying case is also included.
Part No. ETB 007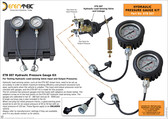 0525
Diesel Fuel Cut-Off Device for Agricultural Tractors
This device fits into the low-pressure diesel line and cuts off the supply of fuel when a remote hidden switch is activated. Helps to prevent the unauthorized use of a vehicle. Operated by a 12-volt solenoid. (24-volt versions for commercial vehicles also available)
Part No. EDI 03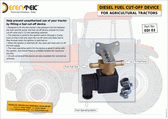 0525A
Handbrake Immobiliser for JCB Fastrac
Connected into the vehicle's air brake system, this key-operated immobiliser will prevent the release of the spring parking brakes by an unauthorized person. Also immobilises the starter motor for additional security. Part No. EHBI 01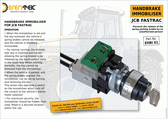 0530
Handbrake Installation Layout for Agricultural Trailer
This drawing shows a typical handbrake installation on an agricultural trailer, using a ratchet handbrake lever with cables to the trailer's brake operating levers. A centrally-pivoted actuating lever (compensator) ensures equal cable tension on both sides.
Part No. EHBK 001
Please contact us for details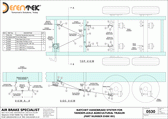 0531
Yokes for Brake Actuators
For connecting the pushrod of a brake actuator to the brake operating lever. Two types of yoke, or clevis, are shown, fixed-pin and sliding-pin. The standard pattern is the fixed-pin type, the sliding-pin type being used on trailers to allow movement of the brake-operating lever when the handbrake is applied.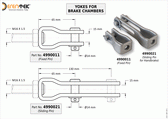 0534
Emergency Trailer Braking System
Applies the trailer brakes automatically in the event of a breakaway from the tractor. Fits agricultural trailers with hydraulic brakes.
Part No. ETK 001
Sheet 1 - General Description
Sheet 2 - Operation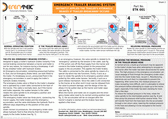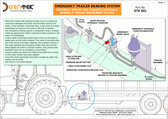 0535
Slack Adjuster for ADR/Colaert Trailer Axles
For agricultural trailers fitted with ADR/Colaert axles and "S" cam brakes. Replaces the non-adjustable operating levers on the brake camshafts, making brake maintenance easier and quicker.
Part No. ESL 32-33 (Equivalent to 9RR0004)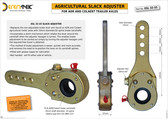 0537
Hub Odometer for Agricultural Trailers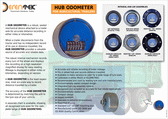 0546
Installation Instructions for
Twin Bertocco Levelling Valves
In an air suspension system, levelling valves and their linkages are designed to maintain a vehicle's ride-height as its load increases or decreases. The correct installation of these valves is of paramount importance, particularly when two are being fitted to one axle. Our drawing shows such a configuration, and includes detailed installation advice to help you set up the valves accurately. Please contact us for more information.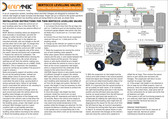 0547
Brake Roller Testing for Agricultural Trailers
Many agricultural trailers on our roads today would probably fail to achieve legal standards of braking performance if they were
properly tested. It pays to have your trailer brakes serviced regularly, and preferably checked once a year on a rolling road, either at your local HGV testing station or at a suitably-equipped HGV workshop. Brake roller testing enables numerous checks to be made, including the braking efficiency of each individual wheel, brake balance and drum ovality. After the test, a detailed printout of the result is given to the customer. (
Click here to view sample
)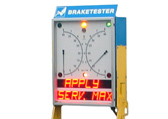 0548
Weatherproof Document Holder
A useful container for documents. Can be fixed in a suitable location on any vehicle, using two M8 screws. Documents are rolled up and inserted into the tube, which has a screw-on cap to keep out the weather.
Part No. EDOC 001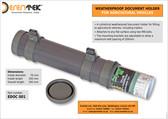 0549
Demountable Air Compressor Unit
for Agricultural Tractors
A self-contained air compressor unit producing up to 8 bar (116 psi), suitable for installation on the back of a tractor. Driven from the tractor's hydraulic pump.
Includes compressor with braided delivery hose, hydraulic motor and fully-enclosed belt drive.
In dark grey or orange finish (shown).
Part No. EHC 001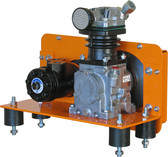 0553
Tractor Air Coupling Adaptors
The air brake "C" couplings on some tractors can be difficult to reach if you are less than six foot eleven. These handy adaptors will bring the height of the couplings down to a more comfortable level.
Part No. ETK 002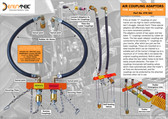 0555
12-Volt Connecting Cables for Tractors and Trailers
The two commonly-used types of 12-volt electrical connecting cables between a tractor and a trailer.
The 12N (ISO 1724) cable, Part No. EC-12V-MDE, is for general lighting requirements.
The DIN 72570 cable, Part No. SEL 0081, is for ABS trailer braking.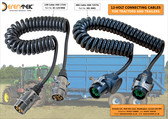 0556
Tyre-Inflator Adaptor
Inflate your tractor and trailer tyres wherever you are. This adaptor plugs into your tractor's air brake coupling and a tyre-inflator hose fits into the quick-release coupling at the other end of the adaptor. For agricultural tractors with "C" type air brake couplings.
Part No. ETTI 001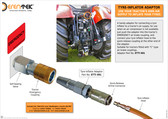 Erentek Ltd. (Company Registration No. 4362200) Registered in UK
Malt Kiln Lane, Waddington, Lincoln, LN5 9RT, England
Telephone: +44(0)1522 720065, Fax: +44(0)1522 729155