Remember, "If in DOUBT speak to ErenTRAUT; If you need to CHECK, speak to ErenTEK!"
AIR BRAKE SPECIALISTS
Air Braking Systems • Hydraulic Braking Systems • Air Suspension Systems
Agricultural • Commercial • Industrial • Light Railway
ERENTEK LTD • ERENTEK PNEUMATIC SYSTEMS
Malt Kiln Lane • Waddington • Lincoln • LN5 9RT • England
Telephone: +44(0)1522 720065 • Fax: +44(0)1522 729155


To help improve our level of service, we now accept these cards for telephone orders.
We specialise in pneumatic braking systems (air brakes), hydraulic braking systems and air suspension systems for a wide variety of vehicles including agricultural, commercial, industrial and recreational, plus systems for narrow-gauge light railways.

The service we offer you includes the design and supply of conversion kits, modifications and special equipment for applications such as Air Suspension Systems, Trailer Braking Systems, Lift-Axle Conversions, ABS Systems (including electronic), Self-Steering Trailer Axles, Automatic Tyre-Inflator Systems and many more.

With over 40 years' experience we have a comprehensive knowledge of our products and can offer you a high level of personal service. We guarantee commitment and expertise and are happy to give our customers advice and assistance at any time.

Constant research into new ideas and concepts keeps us ahead. To help us maintain this position we are able to offer our customers a comprehensive "Diagnostics and Pneumatics Installation Service" which covers Lincolnshire and the East Midland region. This specialised facility caters for all ABS and EBS Systems, Lift-Axle Conversions and Air Suspension Systems for HGVs, Trailers, Agricultural Vehicles and others. Please contact us for more details.
Tomorrow's Solutions, Today

SOLE U.K. AGENT FOR BERTOCCO AIR BRAKE,
HYDRAULIC BRAKE AND AIR SUSPENSION PARTS
Repair Service for Clayton Dewandre Vacuum Servos
fitted to 1950's Motor Cars (Armstrong-Siddeley, Jaguar, Land-Rover, Riley, Rover etc.)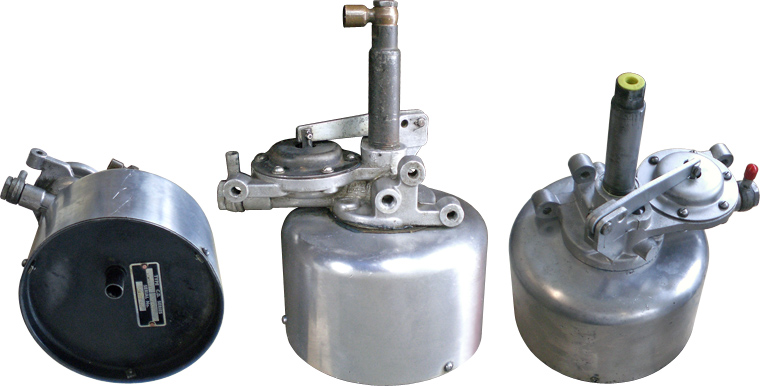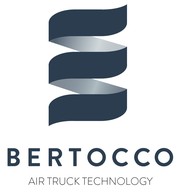 BERTOCCO AIR TRUCK TECHNOLOGY
Product Overview

With a new management and corporate structure, Bertocco Air Truck Technology srl. have now updated their
website
and have begun issuing more product details, including a
Product Overview
containing illustrations and part numbers of many of Bertocco's products.
NOW AVAILABLE - Bertocco 2016 Air Brake Catalogue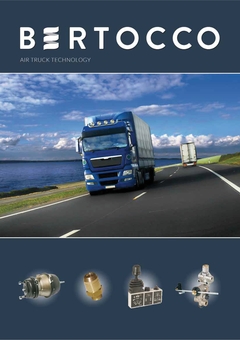 The latest version of the Bertocco Air Brake Catalogue is now available, and you can download it by clicking the highlighted link or by clicking the image on the left.

The 228-page catalogue comprises 23 sections including:
• Locking Cylinders and Operating Cylinders
• Brake Chambers and Spring Brakes
• Valves for Air Brakes
• Solenoid Valves
• Pressure-Regulating Valves
• Air Brake Couplings
• Air Dryers
• Valves for Air Suspension
• Air Reservoirs
• Pipe Fittings, etc. etc.
Bertocco Air Brake Catalogue (2008)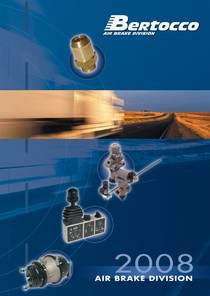 You can still download the earlier (2008) version of the Bertocco Air Brake Catalogue by clicking the highlighted link or by clicking the image on the left.

The 278-page catalogue comprises 23 sections similar to the latest catalogue.
© 2015 Erentek Ltd.
Please note that all images and material on this website are the property of Erentek Ltd. and are protected by copyright. Unauthorised use and/or duplication of any images or other material found on this website without express and written permission from Erentek Ltd. is strictly prohibited.
Erentek Ltd. (Company Registration No. 4362200) Registered in UK
Malt Kiln Lane, Waddington, Lincoln, LN5 9RT, England
Telephone: +44(0)1522 720065, Fax: +44(0)1522 729155